Already 17,000 organizations supported
You've come to the right place. Gobi is the expert in the switch to reusables. 
Start-ups, major groups, public authorities, factories, schools, sporting events, festivals... we support all types of use to sustainably replace single use.
Reducing your carbon footprint, embodying your employer brand, taking care of your employees - we'll support you from A to Z to make your switchover a success.
With Gobi, you can transform your employees' habits with the most sober solution on the market.
And you can prove it.
Request a quote
10 to 100 product packs
Gobi service is ...
We understand your challenges and constraints. That's why we do our utmost to offer you a 100% positive experience.
Feedback within 24 to 48 hours with the best possible support proposal
Unique brand + user personalization via a free card. Optional pad printing
Rapid delivery within 10 to 15 days, guaranteed without airplanes
No minimum order: every gesture counts!
Our products are the mostvirtuous on the market
Gobi's reusable essentials:


Our products are entirely made in France.
Choosing Gobi means working with French factories, pad printers and printers. All in all, more than 70 direct and indirect jobs are created, some 30 of which are included. 


Our range is eco-designed: manufacturing choices have been made with environmental performance in mind.
With Gobi, you're sure to have a concrete, positive and measurable impact. For example, an original water bottle saves 3 kg of waste and 7 kg of CO² per employee per year.


We offer you a health guarantee that goes beyond regulations, with a strict application of the precautionary principle.
Our products are tested and validated in independent laboratories and are certified BPA and BPS free.


1% of your order is donated to environmental associations to go even further and protect our beautiful planet!
Download our offer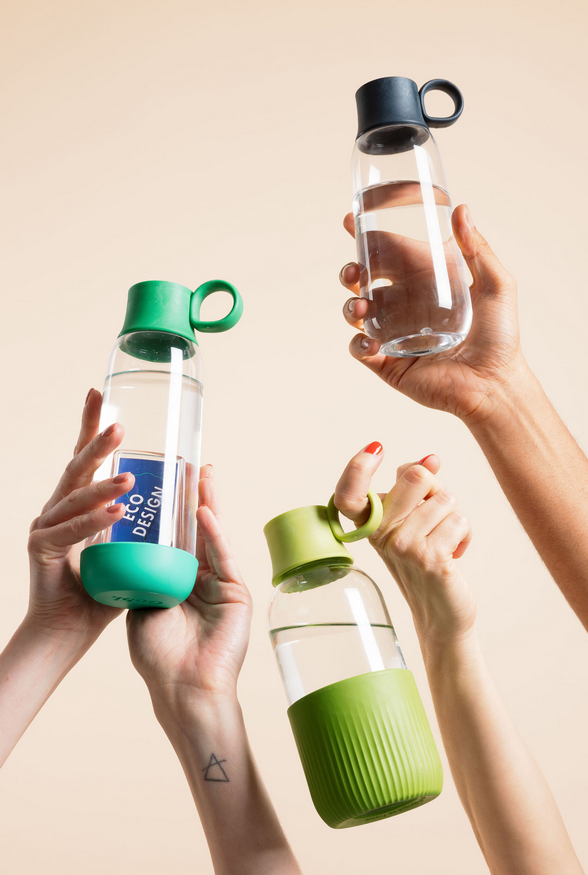 Happy customersNPS2022: 9.33/10
As part of our Stop Single-Use Plastic project at HIVE, our head office, we wanted to offer our employees an eco-designed solution that met our core values and was more than just a goodie. The Gobi water bottle totally met our expectations and even went beyond them by meeting 6 of the 17 SDGs proposed by the UN. The sales team, and more particularly Caroline Talman & Kiara Vigo, accompanied us right up to the distribution Gobi water bottles to our employees during the SD week. We worked on personalising a water bottle to fit in with our graphic universe and the result is totally up to scratch.
The personalised Gobi water bottle, with a silk-screen print of our emblem on the front and a specific printed graphic on the inside, appeals both internally and externally. It falls in line with our transition to the use of water dispensers and the phasing out of single-use plastic cups in our institution. Replacement of plastic cups in water dispensers with water bottles. Fast, efficient and very good business relations. Finally, it's Made in France :)
No more plastic cups for water dispensers at any of our sites. Raising employee awareness of the need for more sustainable consumption habits. Together with Kiara Vigo and Laure Flores, we designed our Gobi Indoor in the UPSA colours for more than 1,500 employees!
Distributed during the European Week for Waste Reduction, they contributed to making this responsible event a great success! Many thanks to them and to Gobi for this French eco-design which is good for our UPSA employees and for our planet! We wanted to offer our students eco-friendly water bottles to avoid disposable plastic and goodies produced on the other side of the planet.
Gobi water bottle met our quality, respect for the environment and short supply chain criteria. We are committed to an eco-responsible approach, with the aim of obtaining ISO 14001 certification, for which we have indeed been recommended.
The presentation and distribution of eco-designed water bottles to our teams were in line with this approach and our desire to act together for sustainable development.
The water bottles have reinforced everyone's awareness and the need to participate in the preservation of our environment, at all levels. We were looking for a product made in France, respectful of the environment, with a nice look and affordable prices. We found it!
All our criteria were met and the icing on the cake, the product is customizable which was a plus because we gifted these water bottles for the new year to our employees. Design for everyday business life
Better than the disposable cup that spills in meetings, or the bottle that's hard to carry when you've got your arms full: all our products are designed to optimize everyday business life. Special mention for the leak-proof cap with its "hands-free" handle, and the new glass lunch box!